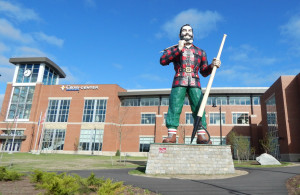 The statue of Paul Bunyan has graced the entrance to Bangor, Maine since 1959. Situated on Main Street, he was given a place of prominence, in front of the Bangor Auditorium with a commanding view of the Penobscot River, all in a peaceful park setting. Things have changed in his "neck of the woods" now that the Cross Center and Hollywood Casino create the new entrance to the Queen City, but Paul still seems to represent the strength of Bangor.
Commissioned by the City of Bangor, J. Normand Martin designed and created Paul to illustrate the fact that Bangor was the birthplace of the lumber trade in the U.S. I have been told that to this day, the Martin family still has a life-size model of Paul in their basement.
The Paul Bunyan statue has become one of those unique pieces of history that intrigues visitors and has been a source of conversation for years for native Bangorians. Rarely a day passes that you don't drive by to see a tourist upon Paul's stone pedestal having a photo taken. Just one of the many stops on the "tour of Bangor" that usually includes the Thomas Hill Standpipe, Bangor Public Library, and Steven King's house on West Broadway.
During the construction of the Cross Center, Paul was rejuvenated. The paint on his plaid shirt and green pants was brightened, and he was generally cleaned to ensure that he would be standing tall to greet visitors to Bangor, Maine for many years to come.