Mount Pleasant Cemetery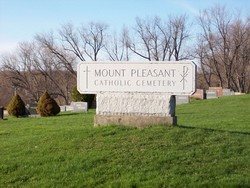 One of Bangor's largest cemeteries sits on Ohio Street, bordered by the Kenduskeag Stream. Unlike the nearly 300 acre Mount Hope Cemetery on State Street, Mount Pleasant is just under 70 acres and younger—established in 1854 versus Mount Hope's 1834. But Mount Pleasant Cemetery has a rich history all its own and is the final resting place of some of the region's best known residents.
In the 1830s, as Bangor was booming with the growing lumber and shipping trades, its Catholic community was also growing. In 1836, local parishioners had established a cemetery at the corner of Buck Street and West Broadway but the Irish Potato Famine in 1845 brought a rapid increase in the number of immigrants to the Queen City. Most of those newcomers worshipped in the Catholic Church. It's believed that the Irish Catholic Community doubled during that time.
By 1854, worship attendance was exceeding the current church's capacity, leading leaders to create an "overflow" area in the street for members to hear services. That December construction began on what would become St. John's Catholic Church on York Street.
The church itself wasn't the only thing nearing capacity. The Buck Street Cemetery was also running out of space.
That's when Father John Bapst approached four Irish immigrants, Michael Boyce, Alex McKinnon, Patrick Wall and Michael McCarty about purchasing 14 acres along the Kenduskeag Stream to be used as a burying ground for the city's Catholic community. They agreed and Birch Hill Cemetery, as Mount Pleasant was originally known, was founded. An exact date or reason for the name change is unknown.
Notable Bangorians who made Mount Pleasant their final resting place include:
Timothy "Teddy" Field, a notorious bachelor and shipping magnate. Field went

west during the California Gold Rush and returned a very rich man after Field and his business partner discovered one of the largest mines in the country.

Actress Myrna Fahey was born in Carmel and went on to a successful career in

movies and TV. She appeared in TV's "Zorro", "The Adventures of Superman", "Batman" and many others. She also had a short-lived relationship with Joe DiMaggio. It was while she dated him that she received death threats from a mental patient who couldn't bear the thought of DiMaggio with anyone other than Marilyn Monroe. Fahey died of cancer in 1973 at age 40.

The direct lineal descendants of one of Bangor's most notable families, the Cassidy's, are interred in a grand mausoleum within the gates of Mount Pleasant.

It was John Cassidy who first arrived in Bangor, making a fortune from Maine's timberlands. The family crypt was constructed of granite blocks more than 100 years ago and is maintained through an endowment.

Finally, the four Irishmen known as the founders of Mount Pleasant, Boyce, McKinnon, Wall and McCarty are all buried on the namesake hill within Mount Pleasant, Birch Hill.
This "Bangorism" is brought to you through a partnership with Tricia Quirk Real Estate and the Bangor Historical Society.