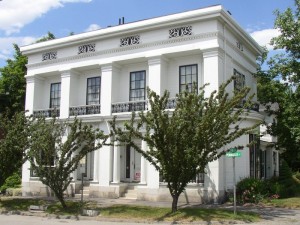 In the heart of one of Bangor's most prominent historical districts sits a home built for two of the state's most powerful past politicians.
Still considered part of the Broadway Historic District, the Edward Kent-Jonas Cutting Double House sits on the corner of Penobscot and Pine Streets. An elegant and ornate Greek-Revival style, it was designed in 1833 by architect Charles G. Bryant for law partners, Edward Kent and Jonas Cutting.

While it looks imposing from the front, the Kent-Cutting House is a bit deceiving. Standing three stories, the original plan of the house was a relatively narrow structure. The 2-level addition we see today was added in the late 19th Century.
It's believed that the home was smaller than other double houses because Kent and Cutting didn't require the same amount of space in their homes as the wealthy merchants who usually built double houses. It's also assumed that because they both served in the public sector, they simply didn't make enough money to afford a larger home.
While the home itself is a testament to Bangor's history, the accomplishments and lives of the men who built it are even more so. Kent and Cutting were business partners for more than 18 years and close friends who also excelled individually.
Jonas Cutting
Jonas Cutting was born in New Hampshire in 1800, graduated from Dartmouth in 1823, was admitted to the Bar in 1826 and then moved to Orono.
Cutting would move his practice to Bangor it 1831, but not before meeting his future wife, Lucretia Holland Benncoh Cutting, daughter of John Bennoch. They would marry in 1833.
In 1854, with a successful law practice in Bangor, Cutting would be appointed as a Maine Supreme Court Justice, a position he would hold until April 1875.
Jonas and Lucretia would have four children. Sadly, only one of those children would live past the age of 21. Daughter Helen Cutting would eventually marry Dr. Augustus C. Hamlin, nephew of Vice-President Hannibal Hamlin and son of Elijah Hamlin, the first President of the Bangor Historical Society.
Jonas Cutting died in August, 1876.
Edward Kent
Edward Kent was born in New Hampshire in 1802, just two years after his friend and neighbor Jonas Cutting.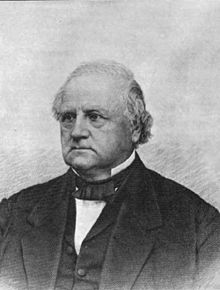 He came to Bangor after graduating from Harvard (in the same class as Ralph Waldo Emerson). He married Sarah Johnson of New Hampshire in 1827 and together they had six children: Sarah, Charlotte, Frances, Edward, James and Kitty (Catharine). None of whom would outlive their father.
One of the last members of the Whig Party, Kent served in the Maine Senate (1831-33), as the Queen City's second Mayor (1836-37), and as an Associate Justice of the Maine Supreme Court (1859-1873). He is best known for his two non-consecutive terms as Maine's Governor first serving in 1838-39, before losing his bid for reelection in 1839. His second term came in 1841.
His first term almost didn't happen.
The margin of victory was so narrow that the Democrats challenged the results. However, the Maine Supreme Court named Kent the legal Governor and he took the oath of office.
After his time as Governor, Kent would serve as the U.S. Consul to Rio de Janeiro from 1849-53—a post that would result in great personal tragedy.
While living in Rio, Kent's children Charlotte and James would both contract yellow fever and pass away. His wife Sarah wouldn't survive the return journey and died en route from Rio in 1853. Kitty would pass away just two years after her mother.
Kitty's death left Edward as the only surviving member of his immediate family.
Edward then married Abby Rockwood—his first wife's niece. Edward and Abby would have a son, Edward Kent, Jr.
Edward Kent would never again live in the Penobscot Street home he built. In fact, after returning from Rio, he never owned a home. Instead, he and Abby had a suite of room's at the Bangor House, where they lived happily until his death in 1877.
This "Bangorism" is brought to you through a partnership with Tricia Quirk Real Estate and the Bangor Historical Society.